North Cascades Institute Mobile Refresh
Project Type:

Non-Profit

Client:

North Cascades Institute

Location:

Sedro-Woolley, Washington

Technology:

Plone
Adding seamless responsiveness to an already beautiful website, thus making it easy to use on tablets and phones.
As the Communications and Marketing Manager at North Cascades Institute for the past 12 years, I've seen nearly every aspect of "getting the word out" to the public about our work turned upside down. Gone are the print newsletters and course catalogs, bulk mailing and faxing press releases; now it's about trying to keep up with the online world: website innovations, social media networks,  e-newsletters, blogging, multimedia and more modern tools. When it came time to refresh our website design, spruce up its functionality and build mobile versions for phones and tablets, I felt so lucky to have Jazkarta on our side. Their team was knowledgeable, efficient, organized and accessible when it came to helping me understand what our options were and where technology is headed next. Their project management is on point, and they deliver excellent product and services on schedule every time. We're very happy with our new, improved website and have budgeted more resources to continue working with them in the coming year. Keeping up with the evolution of technology and online resources can be overwhelming, but we trust Jazkarta to help lead the way for us.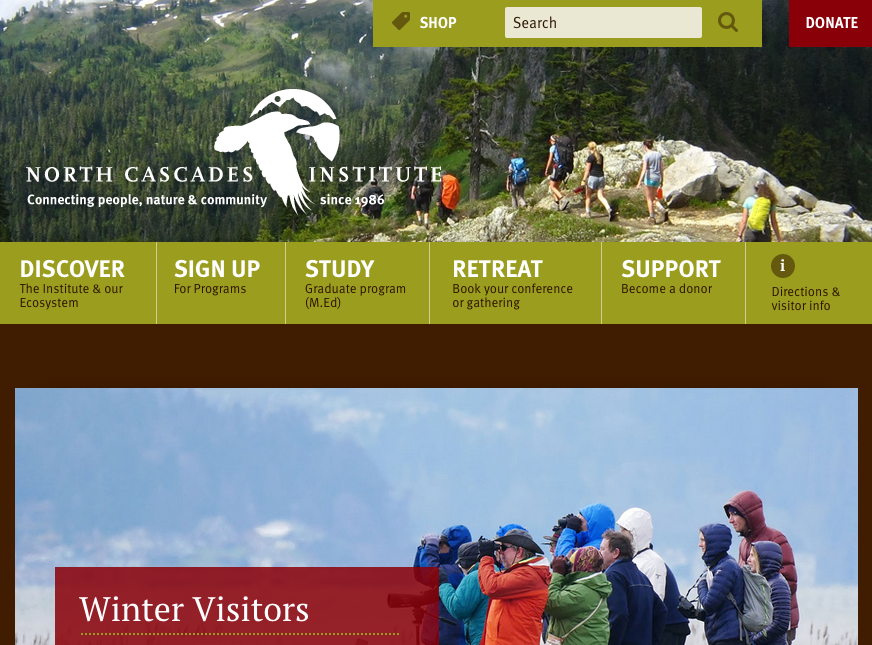 The North Cascades Institute works to inspire environmental stewardship of the Pacific Northwest through education and outdoor experiences. The organization has a Plone website that describes the organization's mission and programs, and allows users to register and make donations. The website is integrated with a Salesforce.com backend, which allows the Institute to keep track of registrations, attendees, and donations. The Plone site and the Salesforce integration was developed in 2010 and had minimal support for the next 6 years.
Although staff were basically happy with the website's design and functionality, they worried about the un-maintained state of the underlying software and they had a wish list of enhancements - in particular, they wanted the website to be more friendly to phone and tablet users. So they sought out a partner with strong Plone expertise to help them begin moving their website into the future. They chose Jazkarta.

As our first step, we performed a technical review of all aspects of the site's code and delivered a report with our findings and recommendations. We found very few sources of immediate concern (Plone sites tend to just keep working indefinitely), but the versions of Plone and its add-ons were approaching the advisable upgrade window. This provided staff with information they needed for long range planning. The mobile refresh remained the highest immediate priority, so we enlisted the services of Neal Maher, who had designed the original website.

Neal designed responsive enhancements to enable the theme to display nicely on mobile devices. He also made improvements to give the theme a more modern look. Jazkarta turned Neal's final designs into HTML/CSS code and then used Plone's Diazo theming engine to apply the code to the site's pages. This theme rewrite will make the eventual Plone upgrade easier.

Staff loved the site's new look, and it has gotten lots of positive feedback from users. Under the hood, the refresh work improved the Salesforce integration and removed many little styling and other issues that had made content editing tedious. North Cascades Institute now has peace of mind from knowing the current state of their website technology, having a long term plan for improving it, and a trusted partner to work with.