KCRW Website
Project Type:

Non-Profit

Client:

KCRW

Location:

Los Angeles, California

Technology:

Pyramid, Plone
This multimedia website won the 2015 Webby for Radio & Podcasts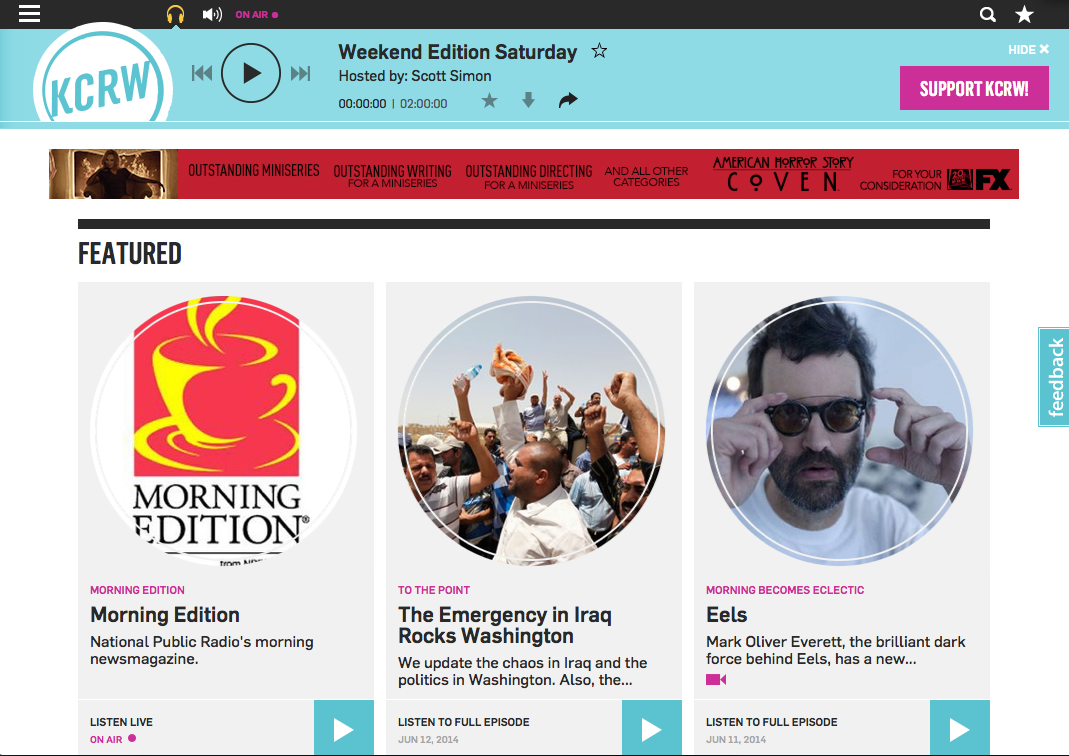 KCRW is Southern California's flagship National Public Radio affiliate, featuring an independent mix of music, news, and cultural programming supported by more than 55,000 member/subscribers. The non-commercial broadcast signal is simulcast on the web at KCRW.com, along with an all-music and an all-news stream and an extensive selection of podcasts. KCRW was a pioneer in online radio, they've been live streaming on the web since 1995.  The station has an international listening audience, and is widely considered one of the most influential independent music radio stations around the globe.
KCRW has used the Plone CMS since 2007 and for most of that time the website ran on Plone version 2.5, which was increasingly showing its age. In 2013 KCRW embarked on a year-long project to redesign the site and upgrade the software and functionality, and they selected Jazkarta for the technical implementation. Site features include extensive multimedia support, tiled layouts, Plone+Salesforce integration, and a responsive design by Hard Candy Shell that looks great on phones, tablets, and desktops.
Modular tiled layouts are central to both the aesthetics and functionality of the site. We used Plone portlets and collective.cover tiles with KCRW's custom content types (shows, episodes, segments) to build a system of standard layouts available as page fragments. Many custom tiles and portlets are based on the same underlying views so editors can easily reuse content fragments throughout the site.
For more information, see our blog post about this project, and our announcement of the site's Webby award.